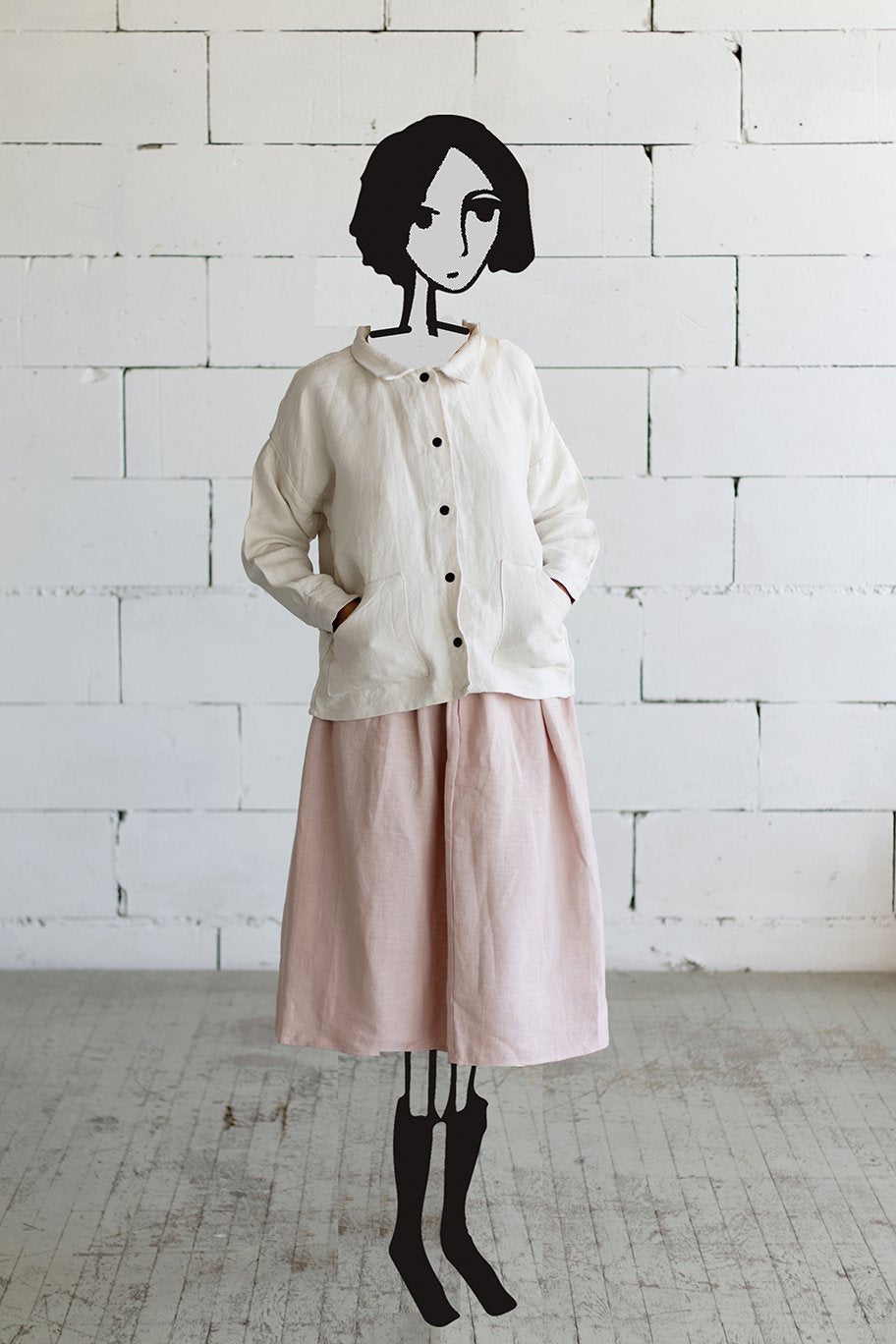 We've been doing some doodling here at Lemuel MC, and come up with a few characters showing off our 100% linen, hand-sewn clothes! Who's your favourite?
Age: 44
Job: Bar manager
About: Beth is sharp and funny, and very interested in fashion. She finds that Lemuel MC clothes are great key pieces in her wardrobe, something she can dress down when she wants to relax during the day, and glam up when she's sparkling behind the bar - charming everyone who encounters her.
Age: 27
Job: PHD Student
About: Edie always has scruffy hair, probably because her mind is so busy with academic musings. Lemuel MC clothes are perfect for her, long-lasting so she doesn't have to head to the shops every month (something she finds very boring), and so stylish that she looks great every day without having to think about it.
Age: 31
Job: Florist
About: Rheanna loves flowers, and spends all day arranging them beautifully. Being so deeply passionate about the natural world, sustainability is important to her, and she needed something she could wear at work every day that's both practical and appeals to her fine eye for aesthetics. Lemuel MC provides her with environmentally friendly clothes she can feel good about buying, and look good as she works.
Age: 55
Job: Editor
About: Rose has a high-powered and sometimes stressful job, and after spending years choosing the same throwaway clothes as she rushed around the shops in her rare spare moments, she discovered Lemuel MC. She loves that these clothes don't start to fall apart after a few washes, and that the seamtresses at Lemuel MC can make her choices to order - flattering her figure perfectly.
Age: 19
Job: Cashier
About: Spending her days in a uniform that she finds less than inspiring, Hazel likes to express herself through her clothes whenever she gets the chance, and considers Lemuel MC clothes to be a key part of her personal style. She loves bold colours that compliment her thick black hair, and as she cares deeply about conservation, she tries her best to make the most ethical choice whenever she can.
Age: 29
Job: Artist
About: Emily isn't a very practical person, with her head in the clouds and creative mind always sparking with ideas. She's attracted to the beautiful craftsmanship and evocative, 100% linen feel of Lemuel MC clothes, and luckily these clothes happen to be perfect both for her work and social life. Light, comfortable and stylish, she can spend all day painting before throwing on some accessories to dress up and head out.
Comments (14)